Fast cars and fish tales. The two seem to go hand in hand when discussing the lives of Adam and Sean Konrad. The 26 year old identical twins from Saskatoon Saskatchewan were raised on big dreams and big fish. Just don't make the mistake of calling what the Konrad's have accomplished a fish tale. Adam Konrad's most recent achievement, a world record breaking 43.6 pound rainbow trout, has got the fishing world salivating over the possibilities of big fish in Saskatchewan. To Adam and Sean it was just another payoff for the many years of dedication they have put in to fishing Lake Defienbaker.

"Fishing is an art and requires a lot of research and practice in order to be successful." Noted Adam Konrad. The twins have been fishing Saskatchewan's Lake Defienbaker regularly for the past 7 years. Working as automotive mechanics at Hyundai in Saskatoon, it was only two years ago that the twins dedicated themselves to breaking records. After hearing tales of potential 30 pound rainbow trout in Lake Diefenbaker, the Konrad's began researching for tips on where to find the big fish. In hopes of proving the stories were more then just fish tales, the brothers spent many painstakingly long days fishing the lake. Success however did not come easily. After months of empty casts and increasingly large gas bills, the boys finally found what they were looking for. Sean landed a "modest" 15 pound rainbow. Not a record breaking fish by any stretch of the imagination, but it was just enough to prove to the twins that potential was in the waters, it just needed to be discovered.
"We started learning the area. What to use, where to cast, how to work our lures…" said Adam. The practice and strategy began to pay off. Over the next few months the twins began to consistently get into trout in the 17-20 pound class. "After we hit our first 20 pounder we became addicted…we put all our efforts and spare time into our first goal, the 27.5 lb provincial record."

June 17th, 2006 proved to be the catalyst of a series of record breaking days for the brothers. It was on this day that both Adam and Sean hooked rainbows during the same cast from opposite ends of the boat. "Sean took about 15 minutes to reel in his trout and after estimating it at about 20 pounds I told him to throw it back because I had a heavier one on my line." Commented Adam. He was right. After a lengthy battle with the trout, the brothers pulled in a mammoth rainbow 34 inches in length and 27 inches in girth. With high hopes the brothers had the fish weighed in Saskatoon where the scale revealed a 28.45lb rainbow trout, a new Saskatchewan provincial record.

"After we pulled in the provincial record we decided to aim for the world record." Stated Sean after pulling in another record breaking trout estimated at 30 lbs the following weekend. The world record for an all tackle rainbow trout, caught on Alaska's Bell Island remained at 42.2 pounds and had not been broken since 1970. The boys knew they had a chance at the record, they just didn't believe it would happen anytime soon.
The following weekend Adam and Sean set out on their pursuit, this time bringing along their best friends Ben and Shane. It was a good thing the boys decided to bring extra help as no later then three hours after their first cast Adam hooked what appeared to feel like a world record trout. "As it came out of the water for its first jump all our mouths dropped at its size". The fish began to spool at least 50 yards of line in what seemed to be about 10 seconds. It eventually started to tire and we realized that our net was not nearly big enough to fit the head of the rainbow. It was a good thing we had extra bodies there because Ben had to hold Sean's legs down in the boat while he reached in and hoisted the beast into our boat." described Adam. The fish was quickly measured at 38 inches and weighed in at a local superstore at 33.3 lbs. This was good enough for the twin's first world record. The largest rainbow ever caught on a 12lb line.

Having proved that they were capable of producing world record fish, the twins would stop at nothing until they achieved their ultimate goal of the all tackle world record. Also at this time the fishing world became exposed to the talents of the self proclaimed, "Fishinggeeks." After several articles and local interviews the boys began to receive a mixture of respect and skepticism. "After telling people our new goal, there were a lot of skeptics out there. People were getting upset that we did not release the 33.3lb rainbow and some went so far as to target us as inhumane for pursuing these large fish." Adam and Sean stuck to their goal, fishing profusely throughout the summer, properly releasing all fish not capable of challenging for a world record. "As our quest continued we ran into some amazing fish. A 31lb lake trout, 16.5lb burbot, countless 10+ lb walleye, and many 20+lb northern pike." Quoted Adam. In the mix of all these trophy fish was an additional world record, a 34.5lb rainbow trout which broke the former 8lb line class record. The twins had achieved great success, but nothing short of a 42.2lb rainbow would stop them from pursuing their dream.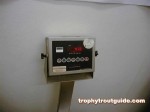 June 5th, 2007 started like any other day for Adam and Sean. After a long day of work in the shop the boys loaded up their gear with their friend Tyler and headed out to Defienbaker for some evening fishing. Sean chose to cast into a recently discovered walleye hole while Adam cast out for rainbow. While Sean was fighting a walleye Adam landed a modest 18lb rainbow. "After releasing the fish I was about to go check on my brother to see how they were making out with the walleye. I decided to cast out a few more times before taking a break." This turned out to be a wise decision as the next cast would be one that Adam will never forget.

Adam described the experience in detail, "I launched my Mepps Syclops into the air and slowed down my lure presentation in order to focus on the lure movement. Just as it started working properly, I felt the thump on the line. I set the hook quickly but the fish wouldn't move. Knowing I had put the maximum tension on my 6lb test line, I loosened my drag and waited. I felt one tail wag, then another, and over the next minute the fish refused to move. I called to Sean in anticipation that another 30+ pounder might be on my line. Something felt different about this fish, the brute force of it was amazing. As I finally pulled the monster from his feeding lie I could feel him rolling. Keeping pressure on the fish he began to tire. My arms were burning and were still tired from the lengthy fight with my previous 18 pounder. Keeping my line as high in the air as possible I yelled out to Sean again "30 pounder!" Something did not feel right about this fish, the way it fought was different, much different from our previous 30 pounders."

As Sean ran over to assist his brother he carried with him a scale, measuring tape, and a video camera. Adam continued to battle the mammoth rainbow for about 12 minutes before catching his first visual of its belly. "The fish came about 40 feet in front of me when I saw its size. It was unbelievable and I instantly knew it was the largest rainbow I had ever seen. Realizing that my dream fish might be on the other end of the line I quickly loosened my drag as there was no way I was letting one strong tail wag snap my line like so many times in the past." The fight continued for another 10 minutes before the fish began to show signs of fatigue.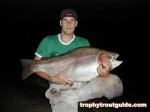 "The fish's energy began to drain as it turned sideways. I started to pull him in. Seconds ticked away and so did the distance between me and my dream. Once it was within 10 feet I sprinted into the water and grabbed the monster. As I lifted him out of the water and felt the dead weight of the fish my arms went numb and my mind went blank. I had no words to say but I knew my goal had been reached."

A lot has happened for the fishinggeeks since that dark evening on June 5th. They have been on national television, in multiple newspapers, and even received the page front article on espn.com's outdoor webpage. Adam fights to properly describe the feeling. "As I look back on that moment I can't even begin to describe the feeling. After all the time and effort that Sean and I put in to that fish, I know that nothing will ever be able to take away that feeling from me."

The world record breaking rainbow was officially weighed at 43.6 lbs, good enough for the all tackle record. The goal was achieved and their dream was complete. What lies ahead for the fishing geeks? The world of outdoor sports will just have to wait and see.